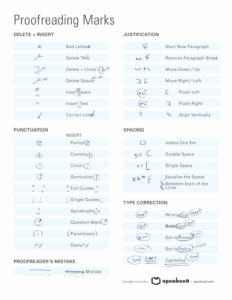 Once you've proofread you'll need to clearly indicate the changes that need to be made, that much is obvious. Proofreading marks are devices that specify needed corrections on draft documents. We know what you're likely to think, most of the work we do is now done digitally, so how is this relevant?
Well, if you're like many of our clients, printing out documents in order to make notes is still a very common practice and for good reason. We shouldn't rely completely on what we see on screen. Especially for materials that will be printed, seeing the draft documents printed out will give you a better idea of the visibility and clarity of the text so that you can make proper requests for edits.
For your free use, we've attached a proofreading mark cheat sheet. There's no need to memorize dozens of marks used in proofreading. If you keep our sheet handy you'll become quickly familiar with regularly used symbols.
Enjoy!